Camille et Colin Goellaën Duvivier sont frères. L'un joue de la batterie, l'autre du clavier, tous deux chantent. Ensemble ils démontrent qu'il n'est pas besoin de guitare pour jouer du rock'n'roll. Passés par le groupe Smooth Motion, les deux musiciens jouent du heavy psych, cette musique hybride née à la fin des années 1960, quand hard rock embryonnaire et rock progressif n'avaient pas encore établis leurs codes. Quelque part entre Uriah Heep et Black Diamond Heavies, Moundrag proposent un show puissant et énergique, dans lequel l'improvisation tient une place importante.
"Moundrag joue fort un hard rock psychédélique unique. Les deux frères paimpolais ont 20 ans et font revivre les sons des années 1970 avec jubilation."
Ouest France
"On a confiance en ce duo de musiciens, tombés dans la marmite Deep Purple et Emmerson Lake and Palmer, entre autres, dès le plus jeune âge, pour toucher un public large, grâce à leur énergie communicative et leur talent."
Le Télégramme


"Local 60s psych rock duo Moundrag are brothers Camille and Colin Goallen of Rennes, France. Both currently attending the Rennes music conservatory, they played a fun, heavy set consisting of percussion, keys, and dueling vocals brought to life with costumes, three gongs, and badass attitudes. Camille and Colin grew up in a musical family, their parents are a violin and accordion folk duo, playing the traditional Celtic music of the Brittany region, but it was their love of old rock bands like Deep Purple that influenced the music they play in Moundrag."
KEXP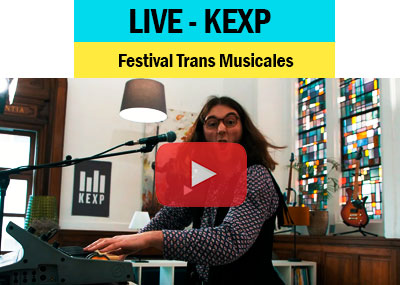 Past dates 2019/2020 :
Transmusicales de Rennes, L'Ubu, OFF Art Rock, Festival On Lache Rien Sauf Les Chiens, Tomahawk Festival, La Carène, Bonjour Minuit, Festival Millésime Douarnenez, Le Blues Autour du Zinc, Festival L'Eveil du Boucan, Festival I'm from Rennes,...